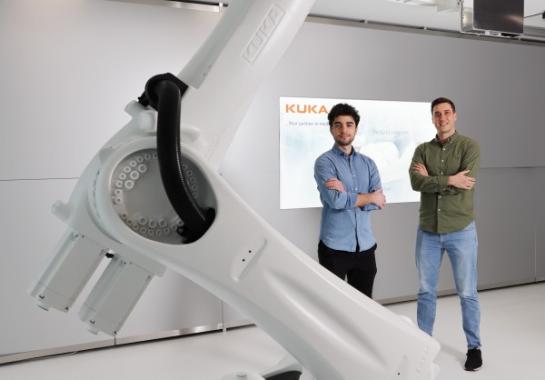 Congratualations to RERE members David Beckwée, Nina Lefeber and Eva Swinnen for winning the KUKA innovation award together with their team!

A next generation of rehabilitation robotics
The VUB-BruBotics-imec robotics research groups is happy to announce that one of their teams is a finalist in the 2022 KUKA Innovation Award. 
Today we are seeing the emergence of robotic devices such as the KUKA LBR MED in the field of rehabilitation. This promising technology can improve the ergonomy for therapists and provide them with a valuable tool that can measure physiological information. This allows therapists to improve their assessment and prognostics in terms of functional outcome.
However, there are mainly two things that robots cannot do, that the hands of a human therapist can, and that is, to control the amount of pressure that is applied on the skin of the patient, and to monitor the efforts that the patient is delivering.
The reason these two things are important is because we aim at improving safety and comfort of these robots, to one day allow more independent rehabilitation, where we relax the need of a therapist to be always present. Secondly, having a measure of the efforts that the patient is delivering will help us to provide more engaging rehabilitation, with the goal to promote active participation of the patient to increase functional outcomes and lead towards more cost-effective treatment.
The technological solution we provide is in fact to mimic human skin. We want to allow robots to gain perception that is largely missing in robotics, using a sensorized interface for the patient developed at BruBotics.
The KUKA Innovation Award
This year, the KUKA Innovation Award is all about medicine and healthcare. Because new technologies are playing an increasingly important role in healthcare and will be virtually indispensable in the future. Researchers, developers and young entrepreneurs from all over the world submitted their concepts for the "Robotics in Healthcare Challenge". An international jury of experts evaluated the concepts and selected our five finalists.
The teams have already received an initial training on the hardware and software and can now put their ideas into reality using an LBR Med provided free of charge and a vision system from the Munich-based company Roboception. KUKA will of course support the finalists with coaching from KUKA experts throughout the competition. The final of the Innovation Award will then take place at the MEDICA medical trade fair in November 2022.
For more information on the KUKA Innovation Award, and the other finalists, head to the KUKA website.